We are holding a study on Sunscreen which is being held in Houston from Tuesday, Sept.3 – Thursday, Sept. 5, 2019.
This is a 2-hour in-home interview and for your time you will be paid $325.00.
Should you qualify, we will contact and schedule you! Please fill out as completely as you can with your BEST contact information!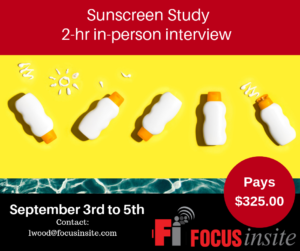 Have any friends or other family members who are interested in getting paid for market research groups?
Follow us on Twitter @focusinsite
Facebook – http://www.facebook.com/focusinsite