It's February 2018, and I can't remember the last time I took a cab- but Uber and Lyft apps are front and center on my smart phone.
It's a cleaner car, and the people are just so much nicer to deal with! (and hats off and "props" to a fellow company from Philadelphia, First Round Capital, who provided the founders with the seed capital and conference room to work out of when Uber was just an "idea" from it's founders).
Also, on a recent conference in Tempe, Arizona for the QRCA Market Research, the hotel was sold out, so I chose an Air BNB. If you live under a rock and haven't heard of it- it's an opportunity to rent out your house or apartment on a nightly basis. When you figure out the additional "hotel fees" and "taxes" that you pay, I stayed in an Air BNB in Scottsdale about 10 minutes away for roughly half of what it would have cost to stay in Tempe. It was a condo unit that the owner purely made into an Air BNB rental unit. Amazing.
Now- the next phenomenon is: Peer to Peer Car-Sharing. If you aren't familiar, instead of going to Avis Rent-a-Car, these new apps allow you, and provide the proper infrastructure, to make it both safe and convenient to rent out their own cars and bypass the rental agency. A friend of mine took his family to California for a vacation, rented through one of these services and had nothing but rave reviews.
We are conducting a market research study on these ride sharing services and are looking for people who actively rent out their car, or even better, multiple cars on this platform.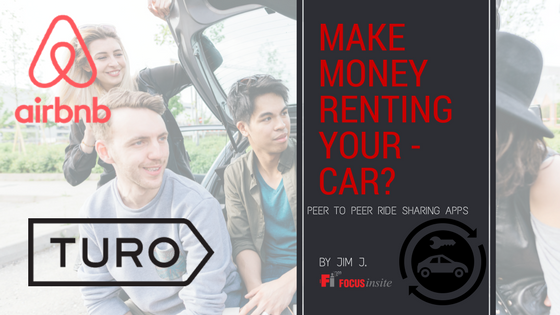 The study is for 90 minutes and pays $300.00 in Los Angeles (Manhattan Beach area) and goes from March 5th through 9th. If you rent cars out on one of these platforms -and live in the Los Angeles vicinity- we want your opinions!
Sign up here:
https://survey.zohopublic.com/zs/ZKB5DG
So far the Air BNB, the Uber – or the "dominant player" in the market place seems to be Turo. Turo is in 4700 cities across the US, Canada and the UK.
If you're looking to rent a car for a number of days- Turo is your choice. They have become a pretty big competitor all of a sudden to traditional car rental firms like Hertz, Enterprise and Avis
Getaround is another peer-to-peer car sharing service with a different model- there they are limited to highly dense cities and you can rent your car hourly or do short duration trips in a local area. Other car sharing services include names like Drivy and ZipCar.
AirBNB put a dent in the hotel industry out of nowhere. It's still early but it will be interesting to see the impact that companies like Turo and Getaround have on the market.
And if you have used, or rent cars on one of these services- we want to speak to you and pay you for your opinions!
Focus Insite is a Qualitative Market Research Recruitment firm. If you are interested in participating in a study, sign up for our database or a link for the individual study you would like to be a part of! If you are a client looking for us to handle one of your project, clcik on "Request a proposal" on our home page.