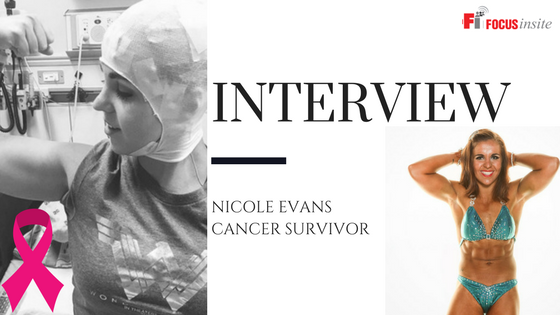 While typically we write about various studies and market research topics, what we forget is really the business we are in.
The people business.
And the best part is meeting some really incredible people.
Sometimes you just sit there and ask yourself "So what's your excuse?"
I had the pleasure of speaking to one of those people .
Meet Nicole Evans, who lives in California.
While most 7 year olds today are worrying about what is in their lunch bag at school, when Nicole was 7 years old, she was diagnosed with Acute Lymphoblastic Leukemia.
Certainly not a great hand to be dealt at any age. Let alone when you're only 7 years old.
When I asked Nicole, she does get a little emotional recounting when she started out: "My classmates were not very kind or compassionate- so I am a big advocate for being inclusive to all. The emotional effects of experiencing a life and death situation while growing up was extremely traumatic- and I don't know if I'll ever completely overcome it. This changed me as a person- as you really fully understand the value of each day. You have to live it to the fullest. This experience taught me how important an anti-bullying message was, how important to be inclusive to all, and I've been driven to use my storey to change the world and now to serve others through my experiences."
The part I didn't tell you?
Nicole has found some new goals in her life.
Not just survival but massive accomplishment.
And one of her biggest? Well in order to keep her mind sharp, she did her best to remain active during lifelong treatments, and playing soccer when she could.
With multiple treatments and the transition to high school, she stopped playing soccer.
And got lost.
But she found her way- a new goal and desire. Competitive bodybuilding – what did she have to lose?
"It started with a fitness class as an outlet to deal with some emotional trauma and confidence issues I had suffered from. Shortly after, I started teaching fitness classes- because I really felt a calling to "pay it forward" after how great it made me feel.
The passion kept building- and so did her body. Diet, extreme exercise, and a new discipline. For Nicole, it just drove her to work harder then ever.

Nicole truly realized life is a gift and entered her first bodybuilding competition- she just signed up, and figured it out. "I just knew I had to do it, and I would figure out the rest along the way. I signed up mostly to hold myself accountable"

Talk about a confidence builder. From suffering in hospitals, to on stage competing " Bodybuilding is a way for me to help focus on just being a better version and package of myself".

Nicole still suffers from hypothyroidism, epilepsy and depression, and is on medication, but instead uses them as motivations to do more with her life. "If life can't be ordinary, why not make in "EXTRAordinary? So that's what's next for me- building myself an amazing and free life that stems around service and helping others through any and all obstacles I've already overcome.

And in terms of her doing another market research study and helping out other patients- she gives a definite "yes!"-  "Working with Focus Insite was incredible. They were so professional, attentive, and detail-oriented in really dialing in on where the patient-care space is headed and what's needed for patients and their families. It was truly an honor to be a part of the process."

And while here are Focus Insite, and Get Paid Medical, we speak with all sorts of Doctors, Nurses, and Patients and their caregivers, Nicole is truly an inspiration!
Make sure you follow with what Nicole is doing on her social media following
You can stay in the know with my upcoming projects by following my social media sites and website:
Facebook: @nicoleevansfit.official
Instagram: @nicoleevansfit
YouTube: Nicole Evans Fit
SnapChat: @itsnicoleevans
Website: www.nicoleefit.com
Email: nicole@nicoleefit.com