We are holding a study where we want a women's opinion on various cold medications and remedies in the market place. Women are amazing as they can have the worst cold, get kids off to school and work a full day. Us guys get the sniffles and we're out for week! 🙂
This is COMPLETELY ONLINE and is being held beginning February 26th. It goes throughout the month of March. We are looking for people NATIONWIDE. You will need to log in for 5 days into an online bulletin board for about 10-15 minutes each day. For those 5 days you will make $100.00, but you must log in every day for 5 days and do a short exercise. Then you will have one brief assignment going to your local drug store or supermarket and taking a few photos on your phone of some products you like. You do NOT need to purchase anything and will be paid an ADDITIONAL $50.00 for this assignment, so the total is $150.00 for about 90 minutes to 120 minutes of your participation.
This should be a fun study! We need people nationwide for this one (again, Women only for this study)!
If interested, please fill out THIS link: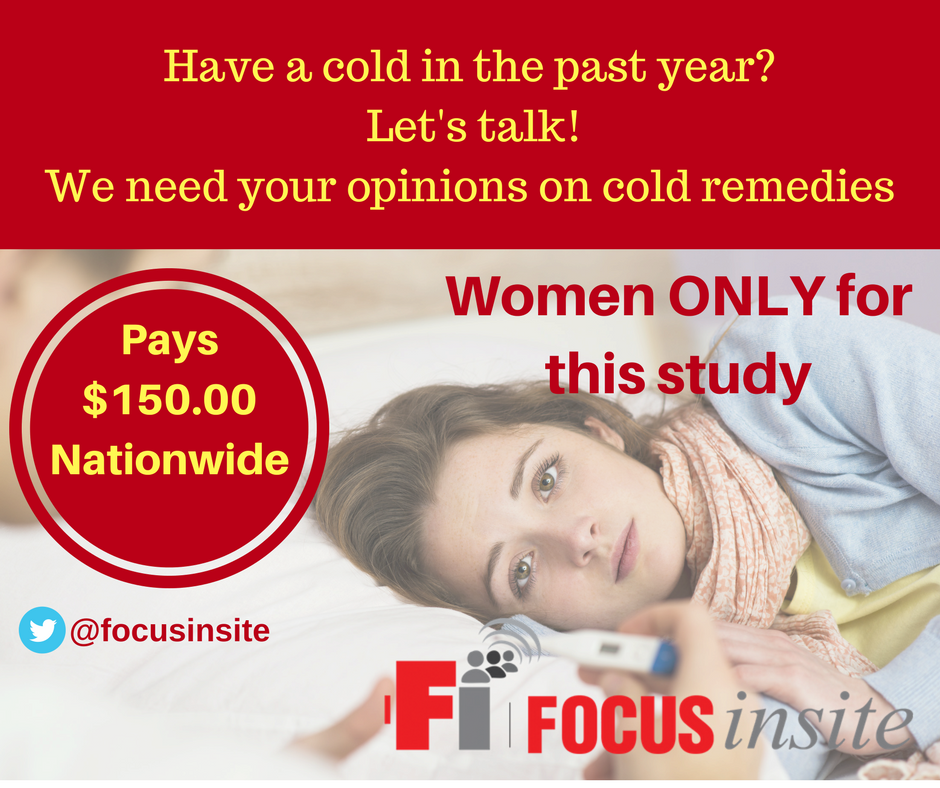 If you are interested in future studies, feel free to get in our Nationwide database by clicking get into our database above. We are Focus Insite, a member of the Insights Association and a recruit consumers, medical professionals, patients, caregivers and B2B professionals nationwide for paid studies. If you are client looking for us to work on your next qualitative market research project, please feel free to click on our "Request a proposal" link above!