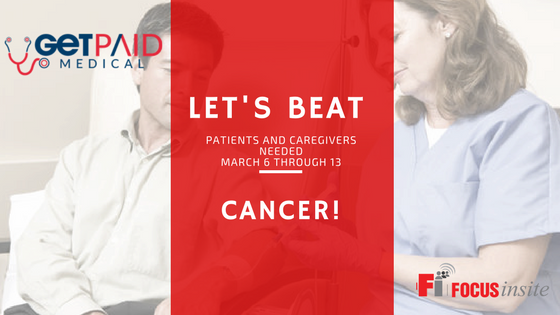 One of the most rewarding things we go at Focus Insite and our Get Paid Medical division is when we help find patients and caregivers for various medical studies. Our clients typically want to speak to these patients to help develop new treatments for them, whether its an app or an improvement in a medical device.
We currently have a new project coming up where we are looking to find cancer patients in multiple markets.
Our first phase of the project will be held in Chicago, Illinois and Atlanta Georgia on the same dates: March, 6th, 7th and 8th, 2018.
Our second phase of the project is being held in north New Jersey (to service the New York City market) on March 12th and 13th.
We are looking for multiple patients. For your time, you will receive $325.00 for approximately a 75 to 90 minute interview (in person) on your condition.
We are looking for those who have been diagnosed with Chronic Myeloid Leukemia and Multiple Myeloma patients.
We are also looking for hematological cancer patients undergoing outpatient infusion treatment.
If you are interested in filling out the screening survey to see if you qualify for any of the markets-, please do by clicking on the below link and we will contact you to schedule!
https://survey.zohopublic.com/zs/StB5wN
(We are also advertising in the various markets with these links as well:
We are looking for patients in Atlanta with this link: https://canceratl.getpaidmedical.com/
We are looking for patients in Chicago with this link: https://cancerchi.getpaidmedical.com/)